Known Faults:
-Tape flip in «Ten Years Gone» patched with GaryB master tape second source
Introduction to the Lost and Found Mike the MICrophone Series
Welcome to JEMS' Lost and Found Mike the MICrophone series presenting recordings made by legendary taper Mike Millard, AKA Mike the MICrophone, best known for his masters of Led Zeppelin done in and around Los Angeles circa 1975-77. For the complete details on how tapes in this series came to be lost and found again, as well as JEMS' long history with Mike Millard, please refer to the notes in Vol. One: http://www.dimeadozen.org/torrents-details.php?id=500680.
Until 2020, the Lost and Found series presented fresh transfers of previously unavailable first-generation copies made by Mike himself for friends like Stan Gutoski of JEMS, Jim R, Bill C. and Barry G. These sources were upgrades to circulating copies and in most instances marked the only time verified first generation Millard sources had been directly digitized in the torrent era.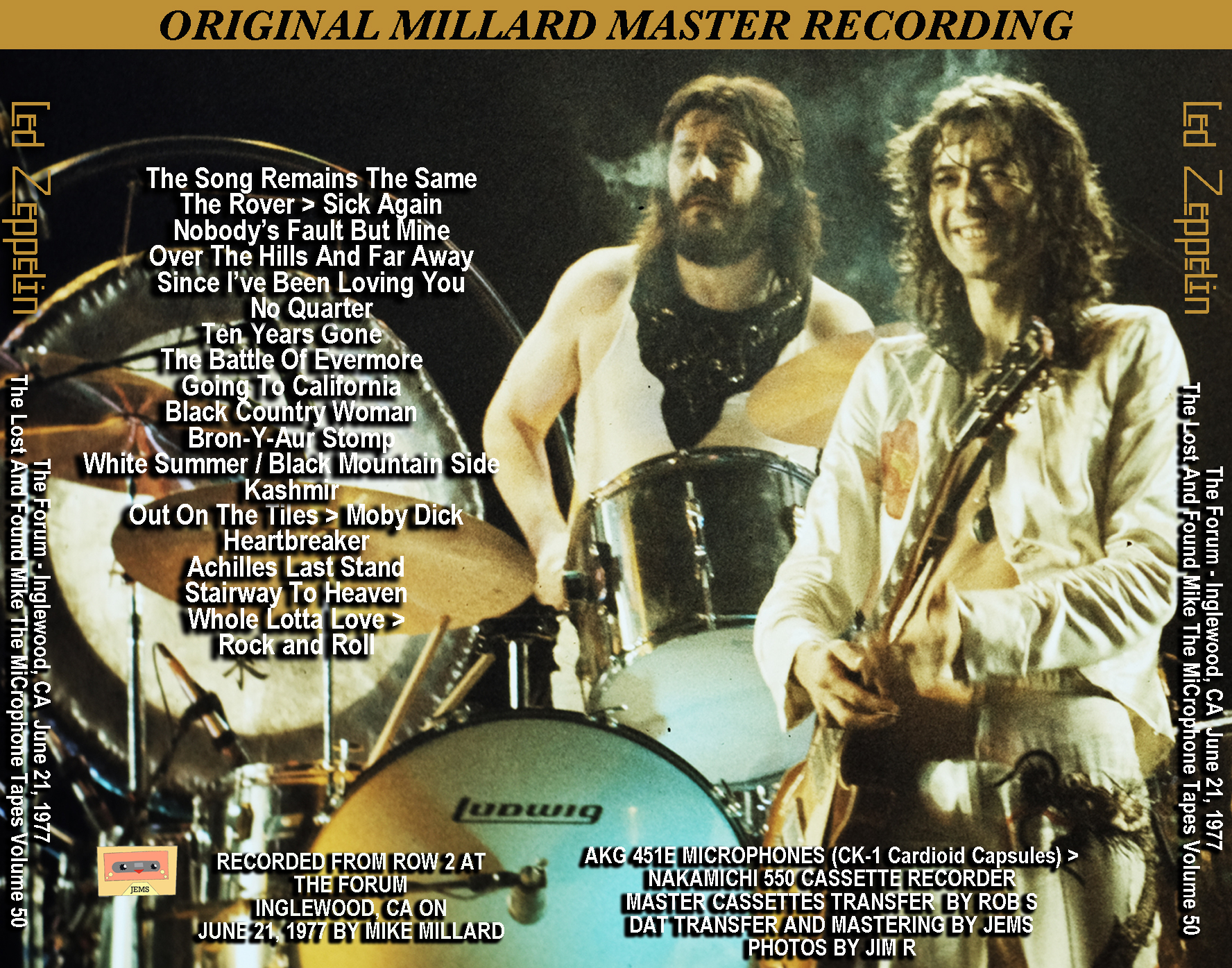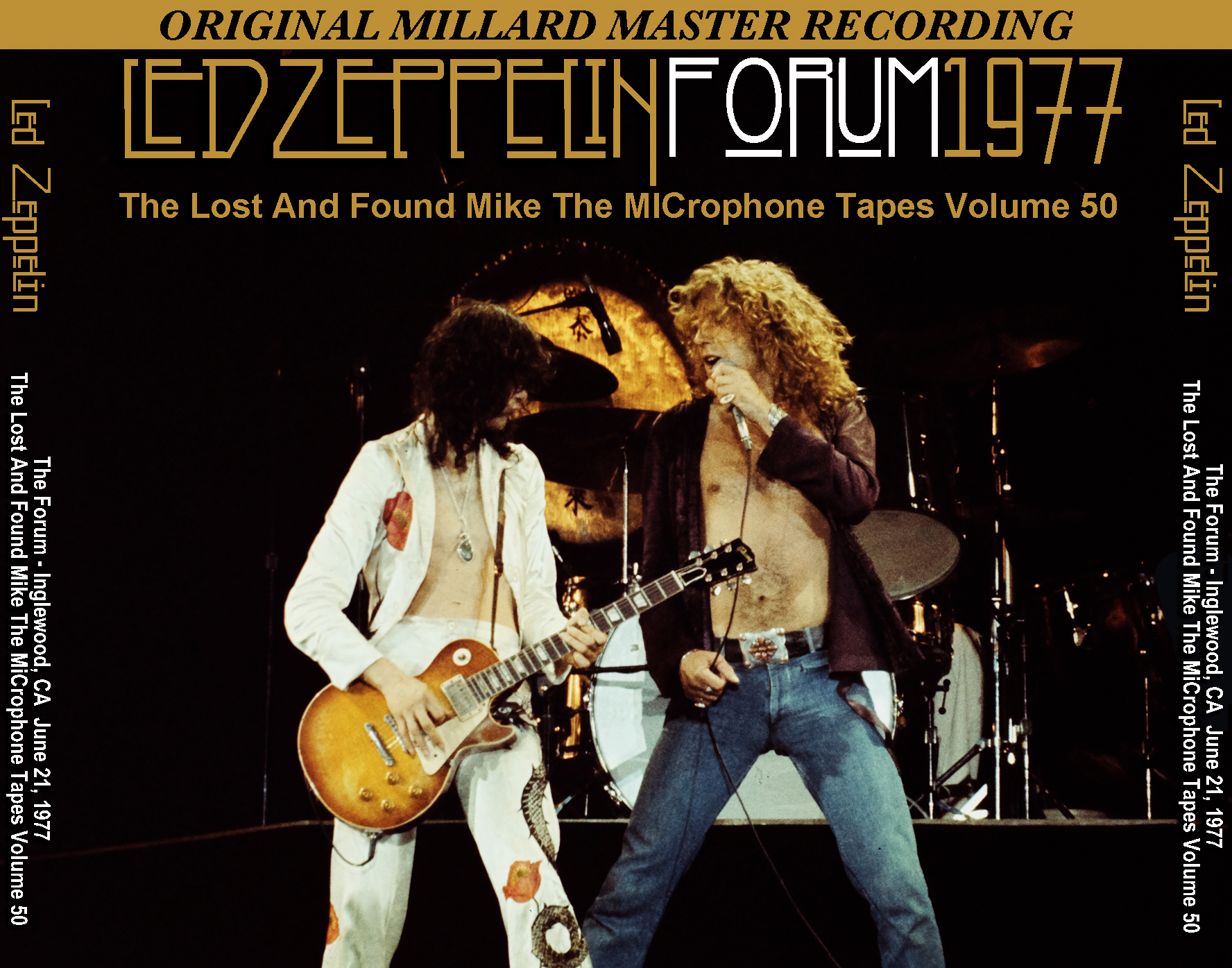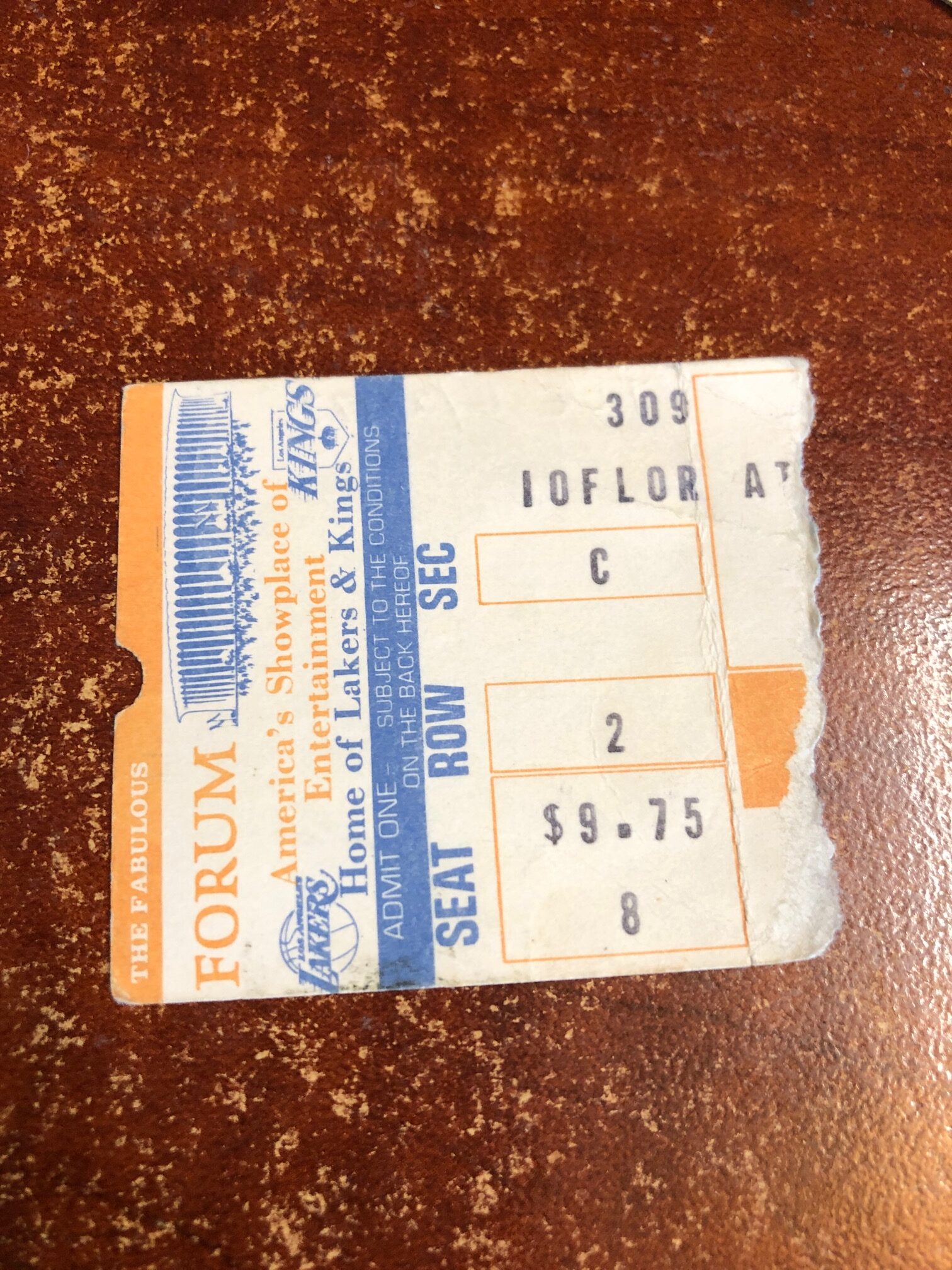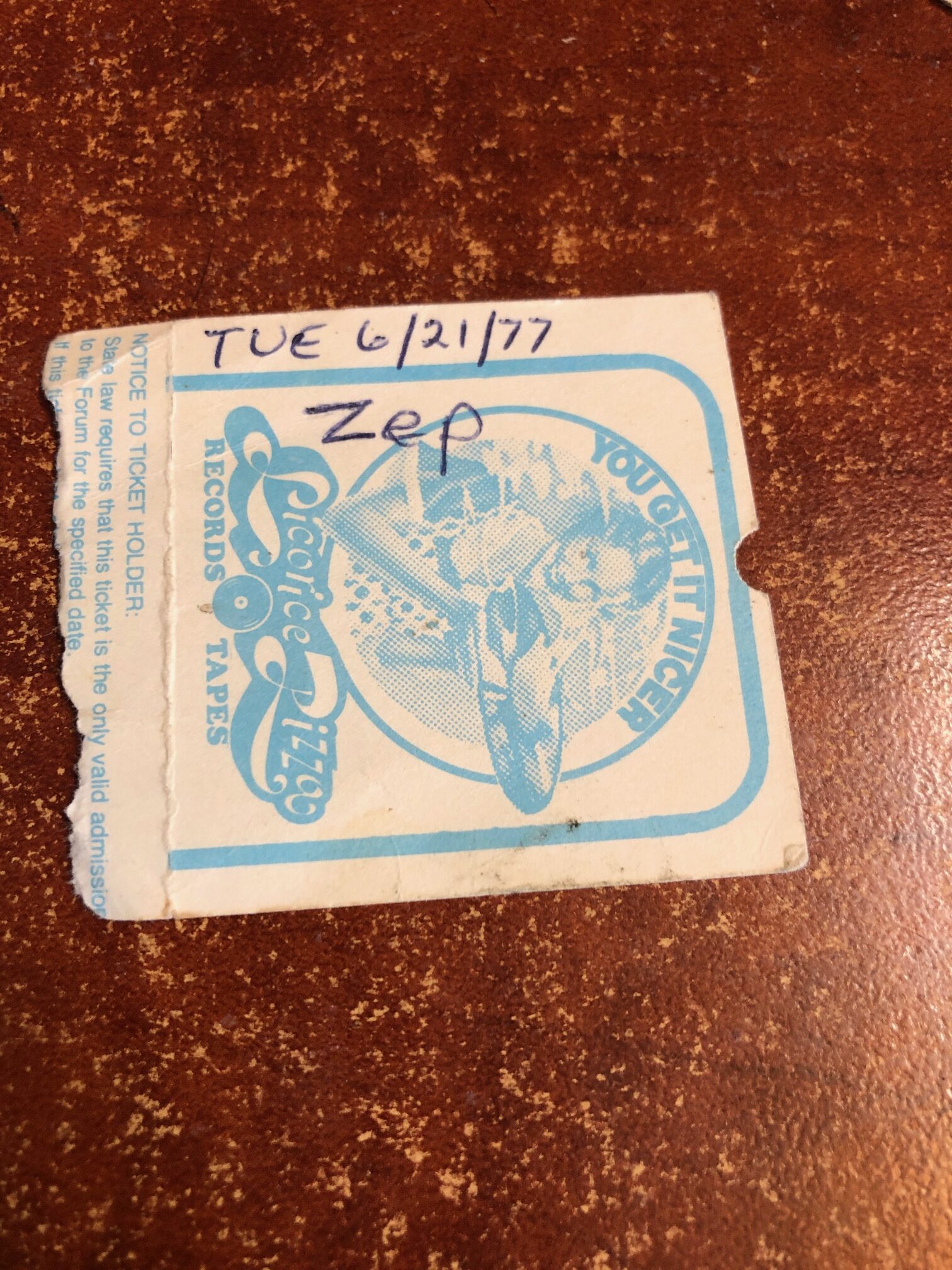 That all changed with the discovery of many of Mike Millard's original master tapes.
Yes, you read that correctly, Mike Millard's master cassettes, long rumored to be destroyed or lost, have been found. Not all of them but many, and with them a much more complete picture has emerged of what Millard recorded between his first show in late 1973 and his last in early 1992.
The reason the rediscovery of his master tapes is such a revelation is that we've been told for decades they were gone. Internet myths suggest Millard destroyed his master tapes before taking his own life, an imprudent detail likely concocted based on the assumption that because his master tapes never surfaced and Mike's mental state was troubled he would do something rash WITH HIS LIFE'S WORK. There's also a version of the story where Mike's family dumps the tapes after he dies. Why would they do that?
The truth is Mike's masters remained in his bedroom for many years after his death in 1994. We know at least a few of Millard's friends and acquaintances contacted his mother Lia inquiring about the tapes at the time to no avail. But in the early 2000s, longtime Millard friend Rob S was the one she knew and trusted enough to preserve Mike's work.
Led Zeppelin, The Forum, Los Angeles, CA, June 21, 1977
As we approached the Vol. 50 milestone in our Millard recording series, it seemed appropriate to reach for something truly special to mark the occasion. But what show should it be?
There is little debate as to Mike the Mike's most famous recordings, but choosing which one to celebrate for the big 5-0 proved vexing. Then came a great idea: Release the 50th show Mike recorded. We started to count from show No. 1 (The Who, November 23, 1973) and low and behold, show No. 50 just so happened be what is undoubtedly Mike's most famous recording of all: Led Zeppelin at the Forum, June 21, 1977. You may have first met it under its all-time great bootleg title, Listen To This Eddie.
Fate, ladies and gentleman.
So here it is, Mike's best known recording, transferred by Rob S from the original master cassettes to DAT in the early 2000s. This show has been bootlegged dozens of times and there are many remasters in the world, notably the work of our ally Winston Remasters.
The underlying transfers used for the best circulating copies most likely come from two primary sources: first generation cassettes (including JEMS' Dolby-decode transfer of unmarked tapes made by Millard himself) and a first-gen copy Millard made from his master tapes to VHS HiFi, which at the time was an inexpensive, high-resolution alternative to digital formats like DAT. The VHS HiFi first gen was then converted to DAT and spawned a lot of the versions before the JEMS «Dolby On» series appeared.
This release has a verified lineage of master cassettes to DAT and we believe it represents the highest quality transfer of Mike's master recording available. We are presenting the recording in two versions: one a flat transfer, the second lightly mastered by JEMS to move the sound image a little closer and lift Jimmy and Robert up slightly in the mix. Our Mastered Edition also uses the second recording of the show by GaryB (which JEMS released a few years ago) to patch the missing piece of «Ten Years Gone» when Mike flipped his tape. The choice is yours.
The show itself was the opener of the band's six-night stand at the Fabulous Forum, what most fans consider to be the high-water mark on the 1977 tour. Mike recorded four of the six shows, and if you're wondering why he didn't do the other two, money and ticket availability were practical considerations for Millard at the time. As Jim explains in his notes, the scalping around these shows reached unprecedented levels and Millard's salary as a furniture truck driver (he wouldn't become an AV clerk a the college until late 1979) meant he couldn't afford the seats he wanted for every show.
The Forum stand was originally scheduled for five shows in March (opening night was meant to be March 9) and went on sale January 31. Robert Plant's tonsillitis forced rescheduling, the announcement for which included the addition of a sixth and final show on June 27.
Any Led Zeppelin collector would do themselves a favor by obtaining a copy of Dave Lewis and Mike Tremaglio's authoritative book Evenings With Led Zeppelin: The Complete Concert Chronicle. It is an encyclopedia of Zeppelin's touring history, packed with details, reviews, contemporary newspaper clippings, photos, ticket stubs, known recordings and so much more. If JEMS had a book club, this would be one of our first selections.
The tome includes a fantastic section on the '77 Forum run, calling the concerts «among the most highly acclaimed performances of Led Zeppelin's career. Thankfully, taper Mike Millard captured four of the Forum shows in exceptional quality audience recordings on his Nakamichi cassette deck. Bootleggers got ahold of Millard's opening night tape and pressed it on one of the most popular Zeppelin bootlegs ever- Listen To This Eddie.»
The legend surrounding the bootleg title is that it was in response to negative feedback about Page's playing attributed to Eddie Van Halen, though the book offers a second theory that the title was aimed at Eddie Kramer, calling out his engineering and production on The Song Remains The Same soundtrack.
One of Millard's friends recently told us that he showed him the Eddie bootleg CD when it was released in 1990 and Mike blew a gasket. He was frustrated by vinyl bootlegs before, but the CD release of 6/21/77 heightened his anger about bootleggers profiting from his work.
Lewis and Tremaglio go on to say Mike's recording of 6/21/77, «is still held in high esteem and is perched atop the list of many Zeppelin fans' all-time favorite bootlegs.»
With good reason. The recording is a marvel of clarity, proximity and power. There's an on-going debate about the overall appeal of soundboard recordings vs. audience tapes, nowhere more so than in the Zeppelin fan community. There's no denying the sharpness of a great soundboard, but they can also sound a little clinical and usually have little to no audience atmosphere.
It can be especially disorienting when a soundboard emerges of a show we have all heard in excellent quality via an audience tape for years. Being so familiar with the sound of a specific audience recording, at times it can feel like the soundboard source lost something vs. gained something.
To me, Millard's 1977 recordings are THE sound of Led Zeppelin in this era, period. Even if a complete board tape were to emerge of an LA '77 show, it could never supplant the musical memory of Mike's recording that is now so deeply engrained in our synapses. History is written and Mike's incredible master tapes are essential, primary documents of the Led Zeppelin live experience.
The only rain on the Vol. 50 parade is that we've had to omit the opening song of the night, «The Song Remains The Same,» because Mike's own recording of the song was officially released on the Led Zeppelin DVD, buried in a submenu.
While JEMS rarely if ever posTs shows thaT require us to cut officially released songs, given the wiDe availability of this recording already and the historic value of the show, we've elected to post sans «TSRTS.» Checking your local listings for other theaters where it might be playing.
In another bit of kismet, this release comes one day after the 40th anniversary of John Bonham's death and the end of Led Zeppelin as we knew them. He was only 32 when he died.
Here's what Jim R recalled about the momentous opening night of Led Zeppelin at the Forum 1977:
I attended the June 21, 1977 Led Zeppelin concert at The Forum, the first of six nights. I pushed Mike in the wheelchair.
Getting tickets for this set of shows was an ordeal. To be one of the first in line required a marathon Box Office camp out that began eight days before tickets went on sale. In January, even LA was chilly enough to warrant down jackets at night. By the time the box office opened there were thousands in line. Several local ticket brokers had crews of kids queuing on their behalf to maximize ticket acquisition. Demand was HUGE and resulted in the first $100 scalper price for a rock concert in LA.
The box office limit was a strict six tickets. Some people were already talking in line about pocketing hundreds of dollars after selling their tickets, but Mike and I being fans were focused on the best seats for the most nights. I scored six front row center tickets. Mike scored 18 tickets by going to a box office window two extra times. We called this technique «bouncing,» as in bouncing from ticket window to ticket window. Bouncing was dangerous as getting caught resulted in security confiscating all of your tickets.
Opening night we sat second row on the floor, a third of the way over from center. After getting to our seats, the wheelchair was tucked away next to the stage, ironically near Peter Grant standing on the side. Taping from the second row is perilous, being so close to security and to Peter Grant and his brutal reputation for «handling» tapers. Stage lights would spill onto our location and light us up. Not Good. But we got away with it four times without incident, though not without a lot of frayed nerves.
Two days before, we attended the San Diego show where Bonham had food poisoning. This affected his playing and likely results in one of the worst shows on the tour. But this night they more than make up for it. June 21st is considered by many to be one the best Led Zeppelin shows ever.
Included are a handful of pictures I took sitting next to Mike in the 2nd row.
###
JEMS is proud to partner with Rob, Jim R, Barry G and others to release Millard's historic recordings and to help set the record straight about the man himself.
We can't thank Rob enough for reconnecting with Jim and putting his trust in our Millard reissue campaign. He kept Mike's precious tapes under wraps for two decades, but once Rob learned of our methods and stewardship, he agreed to contribute the Millard DATs and cassettes to the program. Our releases would not be nearly as compelling without Jim's memories, photos and other background contributions. As many of you have noted, the stories offer an entertaining complement to Mike's incredible audio documents.
On the thank you list again is Goody, for his pitch stamp of approval. And last but never least, mjk5510 for his post-production work that polishes key JEMS releases week in and week out.
Finally, cheers to the late, great Mike the MICrophone. His work never ceases to impress. May he rest in peace.
BK for JEMS