Led Zeppelin painted a mural of musical abstractions for 18,000 screaming fans, who buried the first five minutes of the show in continuous applause.
Zeppelin, acknowledged as the world's hottest rock group, finally made it to the Inglewood Forum Tuesday night in the most touted Southland concert since the Rolling Stones. They opened a six-concert stand and will play to 108,000 people – a Forum record.
The British quartet liberally dipped an artistic paint brush into a tasty serving of music which spanned the group's 10-year history. The sight of lead singer Robert Plant, his body absorbing the driving tempo of John Bonham's drum rhythms, brought the crowd to its feet. Plant clearly has made it back after a near-fatal automobile accident which almost ended his career and forced the group into a two-year layoff. He strutted around the stage, blond mane shaking; in crazy tempos, hand on hip and bristling with energy.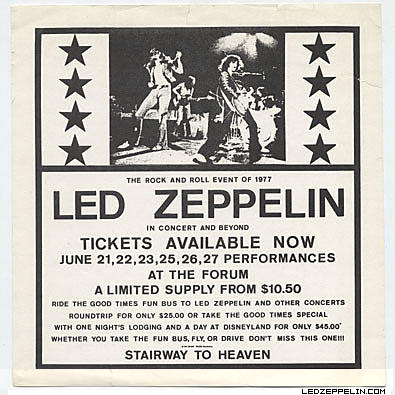 They opened with «The Song Remains the Same,» the title cut from their latest album for Swan Song. At one point, Plant threw back his head, thrust the microphone against his mouth and yelled. «We finally made it. Last time we were here (the Forum) we played with Bad Company. Tonight — no beating around the bush, we're gonna play 'cause that's what we're here for.» And that's exactly what they did for a marathon three-hour set.
Lead guitarist Jimmy Page sizzled. He moved as if he were a puppet on a string, egging the audience on as he wound around the stage like a rubber snake held up by strings. The versatile Page was bathed in laser lights during a rendition of the «Star Spangled Banner,» a la Jimi Hendrix, but with the staccato phrasing that typifies the Zeppelin style.
Earlier, Page displayed his musical flexibility by playing mandolin in an acoustic portion of the show which saw John Paul Jones etch out some interesting work on a three-neck guitar. Jones, opening on bass, was cool and unassuming, but got down to fast action for a portion of his keyboard solo.
It took a mere 40 minutes to sell out the tickets for five nights at the Forum. Another night was added later. It too sold out within minutes. (The Telegram – June 1977)
Setlist:
The Song Remains The Same, (The Rover intro) Sick Again, Nobody's Fault But Mine, Over the Hills and Far Away, Since I've Been Loving You, No Quarter, Ten Years Gone, Battle of Evermore, Going to California, Black Country Woman, Bron-Y-Aur Stomp, White Summer ~ Black Mountainside, Kashmir, (Out On the Tiles intro) Moby Dick, Heartbreaker, Jimmy Page solo, Achilles Last Stand, Stairway to Heaven, Whole Lotta Love ~ Rock and Roll.