A packed house of 1,200 fans awaits Zeppelin's first Toronto appearance, where they would perform 2 sets. Music writer Ritchie Yorke m.c.'s the show.
Review: Led Zeppelin: Fast Becoming Cream of the Crop
Of all the memorable things which happened during Toronto's two heavy shows last night (Led Zeppelin at the Rock Pile and the Turtles and Iron Butterfly at Massey Hall), one visual image easily stood out.
It was the sight of Led Zeppelin's hero-worshipped lead guitarist, Jimmy Page – resplendent in avocado velvet suit, bent over as if in agony to the audience, his fingers working like a touch typist's, his foot thumping like a kangaroo's tail, the sounds as clear and as piercing as a bedside phone in the stillness of 3 a.m.
Above all else and there were highlights aplenty, it was Page's night. He arrived in Toronto, without a record on the market but with a reputation that long ago preceded him.
Several critics, myself included, had suggested Led Zeppelin just might be the next so-called super-group, the likes of Cream and Hendrix. Advance airplay and reviews of the debut Led Zeppelin album (to be issued on Atlantic shortly) brought over 1,200 people to the Rock Pile. They expected a lot, and few were disappointed. Considering the group was only formed a few months back, it's remarkably tight and together.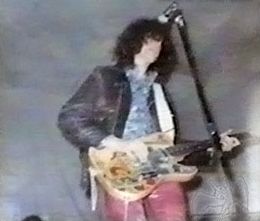 Led Zeppelin is not Cream, nor will it fill the spot left behind by Cream. Nobody will. But the Zeppelin outfit has a thing going of its own and there's little doubt that thing is going to be very successful.
Page came off as the finest group guitarist to emerge since Clapton. Already, he is way above Jeff Beck, Mike Bloomfield and Elvin Bishop. His spotlighted work, including riffs with the violin bow, was executed expertly, without pomp or pretension.
Singer Plant is from the English blues school – hard, angry, defiant, gutsy. He could well develop into tone of the big name group singers of the year. (R. Yorke / G&M 'Pop Scene', Feb. '69)
A very compact, complete and powerful set. Ritchie York announced the show: «Led Zeppelin is going to be doing two sets tonight … in between we've got Tee Garden and Van Winkle. Next Friday and Saturday night – Albert King, don't forget and B.B. King at Massey Hall on February 14th … but right now … their first Canadian appearance, and there's going to be a lot more of them … Atlantic recording stars – Led Zeppelin!» The band is smoking and Robert's voice is unbelievable! The highest note he reaches in How Many More Times is simply amazing.
The tape starts with an announcer introducing the group and telling the audience they will be playing two sets. Unfortunately, only the first set survives. Plant is in strong voice during Train Kept a Rollin', but something happens to the tape at the beginning of I Can't Quit You Baby, making it even murkier. Plant shouts his way through Dazed and Confused.
Page's solo in You Shook Me is interrupted by a cut in the tape. A slowed-down Killing Floor begins with a Machine Gun-like intro. It's quickly morphing into what will become The Lemon Song on Led Zeppelin II. The first set ends with How Many More Times, in which Plant improvises lyrics over the bow solo, as well as adding some lyrics from Money into the «got you in the sights…» section.
1. Train Kept A Rollin
2. I Can't Quit You Baby
3. Dazed And Confused
4. You Shook Me
5. How Many More Times
Olympic Stadium Fall 1968
London, U.K.
Excellent stereo soundboard recording
6. Babe I'm Gonna Leave You(2 Takes)
7. You Shook Me
8. Tribute(2 Takes)