Boston Phoenix February 5, 1969
01. Train kept a rollin'
02. I can't quit you
03. As long as i have you
04. Dazed and confused
05. You shook me
Jimmy Page: After the Yardbirds…Comes Led Zeppelin
By BEN BLUMMENBERG
The Led Zeppelin landed in Boston, Thursday Jan. 22, and for four consecutive evenings virtually blew an overflow Boston Tea Party crowd clear into the Charles River. Playing long sets, well over an hour in length, the Zeppelin lived up to its advance billing as a group of exceptional power and drive. What also emerged, however, is that the L. Z. possesses extraordinary complexity as well.
Both the official publicity on the band, and the unofficial rumor mill, told of a blues rock unit built around the guitar genius of Jimmy Page. (Jimmy Page is the last of the three exceptional lead guitarists produced by England's amazing Yardbirds. The other two are Eric Clapton and Jeff Beck.) This description just scratches the surface. The Led Zeppelin is launched from a blues-rock base but is no means limited by it. Furthermore, the L.Z. is truly a talented and diversified unit, not just a backup group for Jimmy Page.
In concert, the L.Z. went through most of the material on their first album (Atlantic 8216) plus some newer, unrecorded songs. The titles and lyrics may be basic blues, but the approach and performance is of a much wider scope. Perhaps the most outstanding feature of the Zeppelin is that they employ three or four major instrumental concepts in almost every song. The impression, to say the least, is staggering! Indeed the L.Z.'s only fault is a tendency to compress too much into a short space of time.
Rhythm changes abruptly, time patterns change abruptly, volume levels change abruptly, yet melodic line and chord skeletons manage to merge kaleidoscopically as each member of the band feeds one another and in turn plays off the idea thrown out. The entire approach is very loose and very improvisational. The result is a surprising intricacy developed out of a form that is usually considered to be quite simple. Yet the basic power is never lost. In one sense, the Led Zeppelin represents the best of two worlds.
A few things that particularly got me: 1) At various times during "You Shook Me" Robert Plant (vocals) and Jimmy Page (lead) play riffs off against each other with Plant's voice frequently acquiring the electrical qualities indistinguishable from Page's guitar. 2) A 5-minute drum solo by John Bonham that includes some fantastic and hysterical hand drumming but really defies description. 3) The Frequent quiet passages in "Black Mountain Side" by Jimmy Page, which approach the best of pure mountain music.
For my taste, the Led Zeppelin really gets it all together on "How Many More Times," with which they like to close an evening. This ten-or-more-minute master-piece has one of the most infections rhythmic cores I ever heard. If you don't want to jump, dance, and smile after hearing this, you must be dead. This core, which involves everybody, provides the departure point for extended individual solos by each member of the band. The technically impressive pile driving bass of John Paul Jones is a spiritual gift. Plant's amazing vocal power is at its best. Jimmy Page's virtuosity runs the gamut from explorations into abstract electronics to down-home funk. "How Many More Times" is one of those rare rock developments that could literally never end. The wild, screaming reception accorded The Led Zeppelin certainly bears this feeling out.
I expect the Led Zeppelin to be flying high for some time. They and the Jeff Beck Group are to rock what Formula One cars are to road racing. Their raw power is compelling and hypnotic while their complexity makes repeated exposure a pleasure. The L.Z. vary the arrangements of the same song on successive nights quite widely. As Jimmy Page who has little sympathy with complicated studio effects said to me: "If we can't do it live, we won't do it." That idea hits me just right, as does the entire Led Zeppelin from stem to stern. (Boston Phoenix)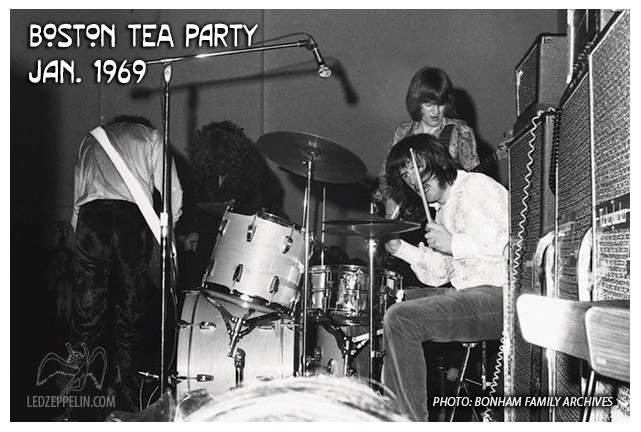 This is all that is known to exist from this show. The band sunds really strong and Robert's voice is in its most primitive and powerful stage. Dazed And Confused is a very powerful and excting version. I only hope the rest of this great show comes out someday! The band stopped after The Train Kept A Rollin' because Jimmy Page had troubles with his guitar. «It's great to be in Boston. According to Jimmy it's one of the best places he's even played! I think, right now, in the shops there's an album called Led Zeppelin. I don't know whether it's out here yet. Is it out? You see, in one place it comes out one day and another place three weeks later. On this album we've tried to do a cross section of everything we've got into and we've included some blues because that's where it all comes from!» said Plant while Jimmy was preparing a guitar string.
Plant mentions that, according to Page, Boston is «the best place he's ever played» and it shows. The vibe is very loose, but full of excitement and energy. The band pauses after Train Kept a Rollin' while Page fixes a broken string. Plant uses this time to promote the first album and complain about a strange sound coming from his microphone. Every high note Plant hits during the intro to I Can't Quit You Baby is met with a squeal of feedback, prompting laughter from the crowd and Plant.
Every member of the band is in good form, giving a raucous performance of As Long as I Have You. Plant has his voice back and is pushing it to the limit, filling every corner with squeals and shouts. Bonzo attacks his drums relentlessly during the extended guitar solo, then pulls back for a duel with Page. Plant tries to bring them back into the final verse, but he has to repeat «born in darkness» three times before they follow.
Plant introduces Dazed and Confused as «a thing that was written by the crew.» Jones is the foundation holding everything together while everyone else goes wild. Someone in the crowd requests White Summer before the band launches into an inspired version of You Shook Me. Unfortunately, the tape ends here. I bet the rest of the show was just as exciting as the first bit.
The tape is very clear with all instruments evenly balanced for the most part. There is what sounds like a damaged section of tape during I Can't Quit You Baby, but it recovers quickly. A very enjoyable document of the band's first night in Boston.